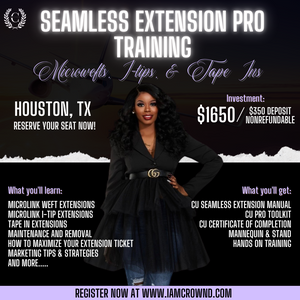 Crown'd University Microlink Pro Training
PLEASE READ BEFORE REGISTERING!!
The Seamless Extension Training investment is $1650. A NON-REFUNDABLE deposit of $350 is due upon registration, the remaining balance of $1300 is due in cash no later than the start class. Zelle is accepted. (Payment info will be communicated after registration has been received).
*YOU MUST BE A LICENSED COSMETOLOGIST 

Seamless extensions are trending right now and will be here to stay! They're some of the healthiest and non-damaging methods used to install extensions. What makes them so great? They require NO BRAIDS, NO GLUE, AND NO THREAD! The versatility of these techniques will allow your clients to embrace their natural hair while wearing extensions. Learning these lucrative techniques will allow you to offer luxury extension methods and increase your income by 1K or more per day! 
What Will You Learn?
Theory
My top 3 Seamless extension techniques

Microlink Wefts
Microlink I-tips
Tape Ins

Seamless extension consultation
Microlink/Tape In maintenance and removal 
Access to my private Facebook community
How to maximize your extension ticket
BONUS: How to structure your business and build business credit
What's Provided?
Crown'd University Pro Toolkit
Crown'd University Pro Certification
Crown'd University Pro Training Manual
This will be a hands-on experience class.
Materials needed will be provided for you. Detailed information will be emailed one week before class.