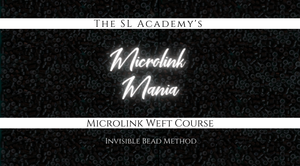 Microlink Weft Online Course
Microlinks are THEE craze right now! It's also one of the healthiest and non-damaging methods used to install extensions. It requires NO BRAIDS, NO GLUE, AND NO THREAD! The versatility of this technique will allow your clients to embrace their natural hair while wearing extensions.


Learn this trending technique from the comfort of your own home or salon!

ANY PAYMENTS MADE ARE NON-REFUNDABLE!